It's a beautiful thing when the stars align.
Thankfully, last week's Comprehensive Capital Analysis and Review by the Federal Reserve (colloquially known as the "stress tests") has deemed the banking system healthy enough for the government to recoup its TARP infusions - just in time for elections.
After the stress tests, both Regions Financial and Zions Corp immediately stated their intent to respectively repay $3.5 and $1.4 billion in TARP.
The Obama Administartion knows bailouts are still on the public's mind. Rick Santorum, for example, has attacked Mitt Romney for his support of strategic bailouts.
Now turning the 2009 bailouts into political "wins" for President Obama may be a tough sell, but recouping taxpayers investments and profits in many cases would appear to be a sound strategy heading into November.
It's no surprise then that just days after the push to repay TARP, the government disaster that is Ally Financial is nearing a resolution. And they could really use some good news on this front. The government made several separate infusions to support ailing Ally that total over $17 billion in financial support. The government had planned to begin divesting their stake in 2011 through an IPO, but market turmoil delayed the offering. Then in January of this year, it appeared that its mortgage subsidiary Residential Capital (ResCap) was going to hold up the IPO.
Not any more.
After some back and forth between bondholders and management about pursuing bankruptcy, it now looks like Ally will push ResCap into pre-packaged bankruptcy. Multiple sources report that private equity firm, Fortress Investment Group, has earned exclusive talks with the company. They also report that they have bid $1 billion to acquire the portion of assets of ResCap it desires - specifically the more than $350 billion in mortgage balances it would like to service via its now public servicing company, Nationstar.
While many are expecting this process to take some time, this would be a big disposition for the government.
Additionally, the Treasury has set plans to divest its remaining stakes in small or medium-sized banks via auctions later this month. Add all of this together and the reported $25 billion it made on its MBS purchases and clearly, the Obama Administration is looking to generate positive headlines for this election year.
Our investments used to be this big
Then the market went up
And up
Then it kinda went like this
Then I was like: "Can we make it go higher?"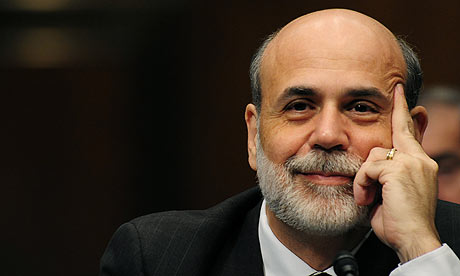 He made this face
Now our investments are small!